NudeBronzes.com
The nude figure is mainly a tradition in Western art, and has been used to express ideals of male and female beauty and other human qualities. It was a central preoccupation of Ancient Greek art, and after a semi-dormant period in the Middle Ages returned to a central position in Western art with the Renaissance. Athletes, dancers, and warriors are depicted to express human energy and life, and nudes in various poses may express basic or complex emotions such as pathos. In one sense, a nude is a work of fine art that has as its primary subject the unclothed human body, forming a subject genre of art, in the same way as landscapes andstill life. Unclothed figures often also play a part in other types of art, such as history painting, including allegorical and religious art, portraiture, or the decorative arts.
While there is no single definition of fine art, there are certain generally accepted features of most definitions. In the fine arts, the subject is not merely copied from nature, but transformed by the artist into an aesthetic object, usually without significant utilitarian, commercial (advertising, illustration), or purely decorative purposes. There is also a judgement of taste; the fine art nude being part of high culture rather than middle brow or low culture. However, judgements of taste in art are not entirely subjective, but include criteria of skill and craftsmanship in the creation of objects, communication of complex and non-trivial messages, and creativity. Some works accepted as high culture of the past, including much Academic art, are now seen as imitative or sentimental otherwise known as kitsch.
Modern artists have continued to explore classical themes, but also more abstract representations, and movement away from idealization to depict people more individually. During most of the twentieth century, the depiction of human beauty was of little interest to modernists, who were concerned instead with the creation of beauty through formal means. In the contemporary, or Post-modern era, the nude may be seen as passť by many, however there are always artists that continue to find inspiration in the human form.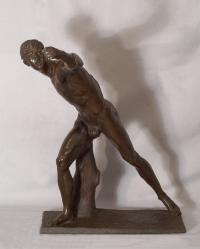 Click any image for more detail